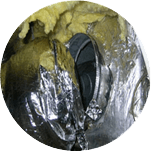 Why ducts need to be repaired?
Out of sight out of mind, heating and cooling ducts are hardly noticed until the air flow is compromised. As ducts age they may break down and need repair. Mice and other creatures may chew their way into your ducts in search of a cosy home (we've even heard of a wombat sitting on a family's ducts to keep warm). You can't see them but you might hear or smell them. If animal affected, the best option is to get a pest controller to deal with those annoying intruders, then give us a call to repair or replace your affected duct work. We can repair or replace aged or damaged ducts to restore your airflow and comfort.
Why choose duct masters
Repair your ducts better than others—Duct Masters is a Quality Endorsed duct cleaning company (certified by Sai Global licence No. Qec 24558)
Peace of mind — $20,000,000 public liability insurance.
Your heating & cooling system is in safe hands—10 years experience in the commercial & residential duct cleaning industry. Extensive network within the air-conditioning industry
The people you can trust—All our technicians hold a current police check.
Easy Payment—we accept Visa, Master card, cash, bank check and even personal cheque.
100% satisfaction guarantee.

Our guarantee
All duct repairing will be double taped with exact size of joiners. 10 year workmanship warranty.* (excluding water damage and animal intrusion)
It is easy!
We understand that it is an out of sight out of mind thing and you are very busy everyday. Simply call 1300 557 077 or email us, our friendly staff will make an appointment for you and our qualified technicians will do the rest for you.